Facilities & Resources
Production Capabilities
As we are constantly expanding our range of capabilities, the shipyards are equipped with (but not limited to) following to enhance production:
Up to 20 berths for ship construction (Largest barge built is 111m)
Overhead Cranes in each Storage / Fabrication Facility
Fabrication Workshop – For fabrication of outfittings, crane columns, modification of parts, etc
Plasma Workshop – For metal cutting, press, shear, rolling, etc machinery
Crawler Crane, for normal use and especially to assist in Launching Procedures
Lathe Machines
Plasma Cutting Machine
Production Facilities
| | |
| --- | --- |
| | |
| 250 Ton crawler Crane. For Assisting in Vessel Launching, SESSB | 100 Ton Crawler Crane. For General Use SESSB |
| | |
| Lathe Machine, Fabrication Workshop SESSB | Plasma Cutting Machine No 1, Plasma Workshop, SESSB |
| | |
| Plasma Cutting Machine No 2, Plasma Workshop SSSB, Yard 2 | Plasma Cutting Machine No 3, Plasma Workshop, SESSB |
Docking Facility
SESSB is equipped with a slipway with 300 Ton winch facility to accommodate a vessel of DWT up to 3000 Ton. This shall be the largest available slipway in the area.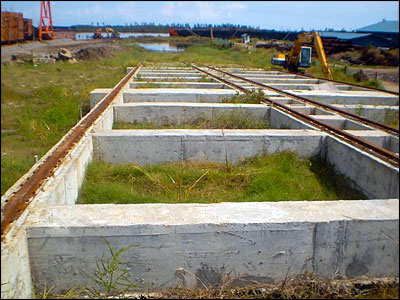 Slipways Still under Construction – Scheduled Completion, 2011
Bollard Pull Test Facility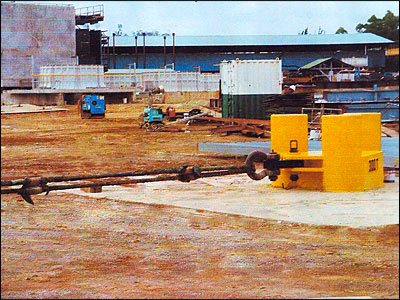 Bollard Pull Test Concrete (300 T), Sipitang - Bollard Pull Station is approved by Classification Societies such as Llyod's and ABS
Airbag Launching Technology
| | |
| --- | --- |
| | |
| Launching of 61.2m Anchor Handling Tug & Supply Vessel: SSS161 | Launching of 48 m Landing Craft: SSS147 – Victoria Tujuh |