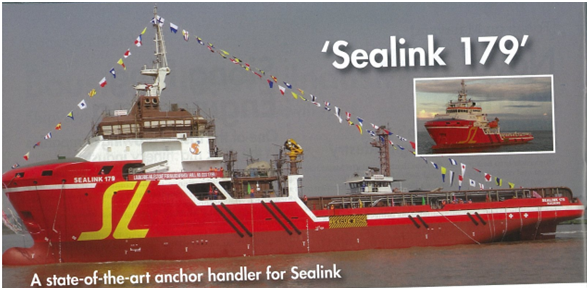 Source: Workboat World October 2013
Designed in Singapore and built by Jiangsu Zhenjiang Shipyard in China, the vessel measures 84.8 metres in length overall, with a beam of 22 metres and a draught of six metres.
Powered by twin engines rated for over 3,000kW each, the vessel has a swift maximum speed of 15.4 knots and a cruising speed of 12 knots. Featuring both mechanical and electric hybrid propulsion, the craft has been optimised for flexibility and reduced fuel consumption.
Working in sync with the twin 1,950kW gensets, the vessel can achieve an impressive bollard pull of 150 tonnes ahead. A Volvo D12-MG emergency gensetr meanwhile, provides redundancy.
The 'Sealink 179' is fitted with dual thrusters at both the bow and stern each rated for SOOkW and 600kW respectively and featuring variable frequency drive technology (VPD). These thrusters are subsequently controlled by a Kongsberg K-POS dynamic positioning system. This package provides considerable DP-2 positioning and station-keeping capabilities for the craft.
Emblazoned with 'Green Ship' notation for environmental sensitivity and 'Comfort-class' accommodation for up to 78, the anchor handler is utterly modern and versatile. Fully centralised air conditioning is present throughout the craft's accommodation facilities and amenities, and other notable additions include: recovery capabilities, methanol storage tanks, moon-pool, a noxious gas detection system and almost 850m2 of deck cargo space.
Lastly, the vessel's substantial aft working deck has been outfitted with a deck machinery package from Brattvaag, including a towing/anchor handling winch, twin capstans, and a two-tonne knuckle boom service crane.
A modern and highly Complex offshore vessel, the 'Sealink 179' represents the best of Asian Work boat construction, and will be a formidable force within the oil and gas industry for Sealink.
For further information contact Sealink, Malaysia.
Email: sealink@asiasealink.com
Web: www.asiasealink.com