Zhenjiang Shipyard Delivers Second AHTS to SEALINK
Published on: 02 September 2013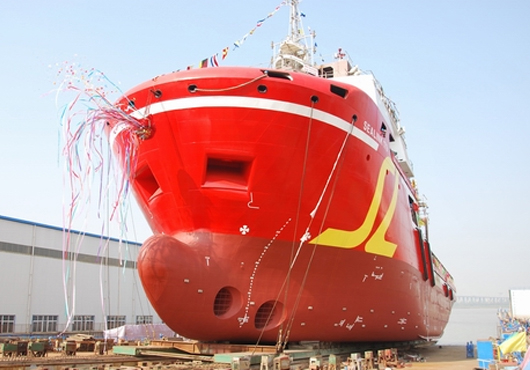 To meet the requirements of classification notation from HAB, ENVIRO and ORO, the vessel is featured by a total power rating of 9120kw, propelled by diesel-power hybrid and positioned by DP-2 dynamic. It also applies unmanned machinery space technology ACCU, liquid level control and streamlined design so as to meet the new standard of PSPC and SPS2008.
Since it has the functions of recycling spilled oil, supplying platform goods and materials, firefighting and ocean salvage, this vessel is not only at an advanced international level among the same kind of products but adheres to the latest trend of the most ocean engineering vessels of being environmentally-friendly, comfortable, energy-saving and artistic.


Mr. Sam Yong, president of SEALINK and the company's board director Ms. Lau Soo Moi, attended the signing ceremony.